International Initiatives

Long Run Initiative 

In 2018, SIERC CEO Dr. Laurence B. Mussio co-founded the Long Run Initiative (LRI) with Prof. John Turner and Dr. Michael Aldous of Queen's University, Belfast. The LRI seeks to connect historians, policymakers and corporate executives to facilitate context-based, evidence-led discussions on critical contemporary challenges.
Combining the capabilities of SIERC and the Queen's University Centre for Economic History, the LRI organizes intensive one-day forums to deliver context, analysis and understanding of the long-run experience of firms, markets and governments to support better corporate and public policy decision making.
The LRI has held two international forums to date: Information Revolutions Roundtable and Confronting the Productivity Challenge. There are currently several forums being planned for 2020 and 2021 in Canada, the UK and the USA.
The LRI is a not-for-profit organization with an international board of governors drawn from senior academic, corporate and government circles.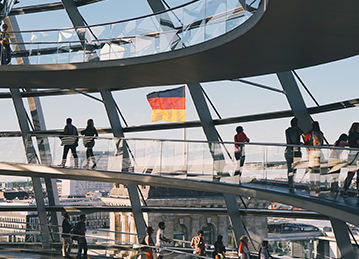 Customized Case Studies for German and European Union Enterprises 

Since 2018, SIERC CEO Dr. Laurence B. Mussio (Canada) and Managing Director of the Gesellschaft für Unternehmensgeschichte GmbH (GUG) Dr. Andrea Schneider-Braunberger (Germany) have worked collaboratively through a strategic alliance framework. The collaboration establishes the sharing of resources and research capabilities to deliver customized analyses of firms based on their specific long-term experience.
Dr. Mussio noted recently that "uncovering the evidence-based narrative of episodes and experiences in an organization's past can lead to surprising insights for contemporary decision makers."
Dr. Schneider added that "our strategic alliance with SIERC provides us with an excellent opportunity to provide prospective clients with unique and complementary services to the ones already offered by GUG. So far, we have operated within our expertise as historians. With SIERC, we can now offer professional development based on insights from the historical record."